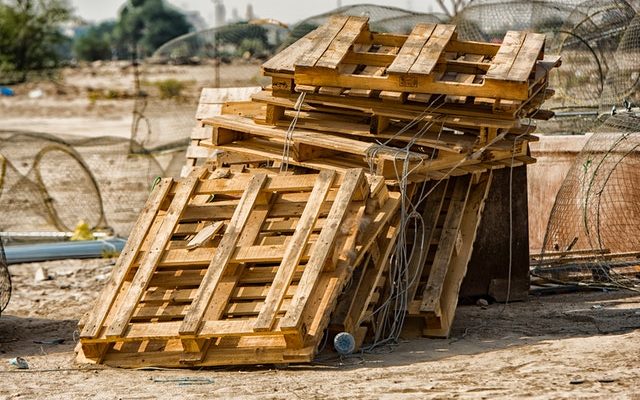 A Euro pallet is one of the few pallets with fixed dimensions. The standard size is 80 x 120 CM. But you can also buy a half euro pallet which is then 80 x 60. If you only put this pallet on the floor it can carry 6000 kg. But officially, you may not transport more than 1500 kg on it. A pool pallet is available in different sizes. The most common dimensions are 80×120 or 100×120 cm. You also have so-called one-way pallets which usually have dimensions of maximum 60×120 cm. There is also a beverage pallet which has dimensions of 100x120x17 cm.
Dimensions euro pallet
The size of a euro pallet is 80x 120cm. This pallet can carry a weight of up to 6000 kilograms. However, the European Union has decided, for safety reasons, that you may not transport more than 1500 kg on a pallet. There are also half pallets on the market that are 80 x 60 cm and half the weight applies here. The half pallets are also called block pallets. This is because they are often used at the head of a store containing promotional items. This may be both the store itself and a company that places this here.
Dimensions pole pallet
The dimensions of a pool pallet may vary per order. The most common models are 80×120 or 100x120 cm. The advantage of a pool pallet is that you can have it made to measure. Many companies choose this pallet over a Euro pallet for a reason. This pallet is often used in the transport world. This is because it is used for different sizes of products and/or boxes. Because they are custom-made, they are often a little more expensive than standard pallets. But what you save in transportation costs is worth it.
Single-use pallet 
The disposable pallet usually has the dimensions 100×120. However, there are also half versions of this, so 60×100. The advantage of a single-use pallet is that they are not in the way. You have them in different models that you can easily store. They also have a collapsible version that takes up even less space. Usually this is used for transporting goods from A to B that don't have a long way to go. But you can also use it for one-time production of goods. This way you are not stuck with the unused pallets and they are usually disposed of by the recipient.

Dimensions drink pallet
Beverage pallets can carry up to 7000 kg of weight. The size of this pallet is 100x120x17 cm. So you can put large packages of (soft) drinks on it. These were only invented in 1994 and have not existed for very long. With the weight of 23kg they are not very handy pallets to lift but this is easy to do with a forklift truck. This is necessary as 50 % of all transport to supermarkets is beverages. Not only do they need to arrive on time, they also need to be distributed efficiently to the stores. We can't imagine doing without it anymore. We are getting more and more population and therefore also more demand for this.

Pallet box size
A pallet box has no fixed dimensions. The most common size is 120 x 80 x 100 where you can build the pallet in a tower shape. But you also have collapsible variants that you fold when you do not have pallets in the house. You also have them in large load carriers where you can put even more pallets. It is useful to inspect your space in advance to see where it fits exactly. This way you can order the ideal size on the internet and you do not have to change it later on.
Dimensions of a deck pallet
A cover pallet is a type of pallet that can be used once only. The standard size of this pallet is 60×80, which is equivalent to half a pallet. They are often used to transport promotional materials. This makes a difference in the weight, which is cheaper to transport. They also cost only 5 to 7 euros on average when you buy them in bulk. The wood is not treated and therefore not intended for multiple use.
Chemistry pallet size
There are various sizes of chemical pallets. The most common one is 100x120 cm. But they are available in 10 different sizes. This depends on the standard of the company you are using them for. Customers also have to agree that you deliver them in this way. So always inform what the wishes and possibilities are for the customer.
How can you recognize an EPAL pallet?
An EPAL pallet, also known as a Euro pallet, can be recognised by its quality mark. Another striking feature is the size of the pallet. These are in all cases 80×120. There is also a half-pallet available that measures 80×60. These are permitted in all European Union countries, but are also used in countries outside the European Union. The pallets are also built in a so-called 4 way. You can see this in the structure of the pallet. In addition, they have 3 skids to bridge the gap. Half an EPAL pallet is also called a block pallet.